"We are privileged to have a Tom Myott painting grace our home. While exploring the city of Saratoga, we began to admire the paintings by Tom we saw displayed around town. We commissioned a work to fill a wall space in our home. Tom was more than willing to collaborate with us on specifics we wanted in the painting. He made numerous adjustments to the work in progress to make it truly our own. We couldn't have been happier with the final result. The painting looks like it was meant to occupy the space. It will bring us years of enjoyment. Thank you, Tom"
Renee & Bill R.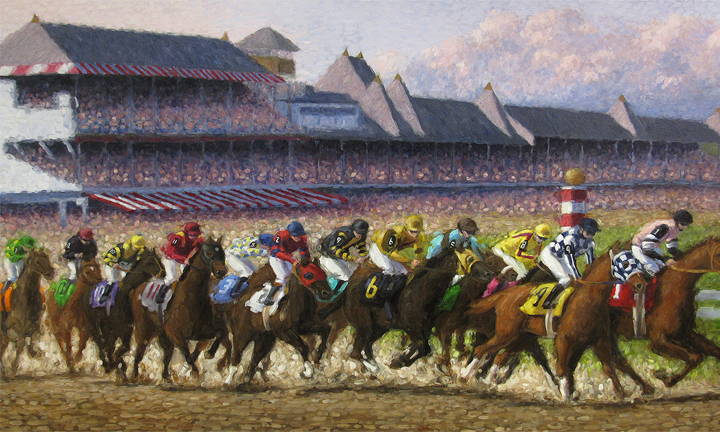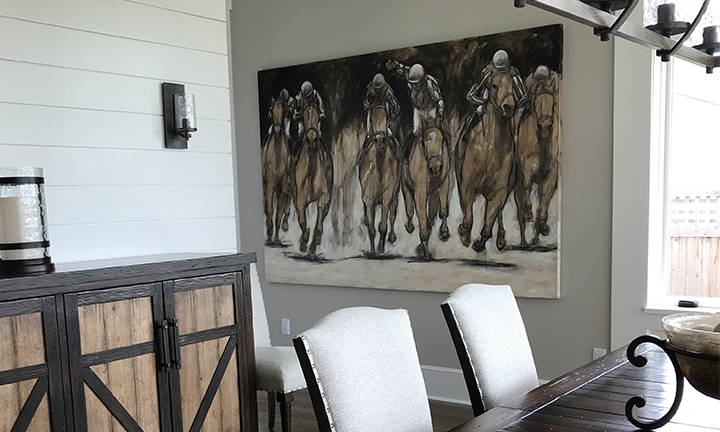 "We commissioned Tom Myott to do a horse racing themed portrait for our new home in Saratoga Springs. We had a large space on a wall which could not handle a piece of furniture but would be perfect for large piece of artwork.Tom came to the house, took measurements and gathered up samples of our fabric and woodworking. Within one week he turned around a masterpiece that fit perfectly with our decor and the style of our home.We are thrilled with the finished product and everyone who visits our home is in awe of the perfectly if fits in our home. We would highly recommend Tom Myott for custom work or his standard paintings. We now a total of four Myott paintings!"
Lou-Ann V.
The cost is based on the size of the painting, the painting technique, the complexity of the composition, as well as the surface it is painted on. There are a several variables that he can work with to make sure you get the painting you want, for your budget. A 20% deposit is required to begin.
Prices do not include a frame.
12" x 18"....... $300.00 - $600.00
18" X 24"....... $400.00 - $1,200.00
24" X 36"....... $600.00 - $2,400.00
36" X 60"....... $1,500.00 - $6,000.00
48" X 72"....... $2,400.00 - $9,600.00
72" X 108"..... $5,400.00 - $21,000.00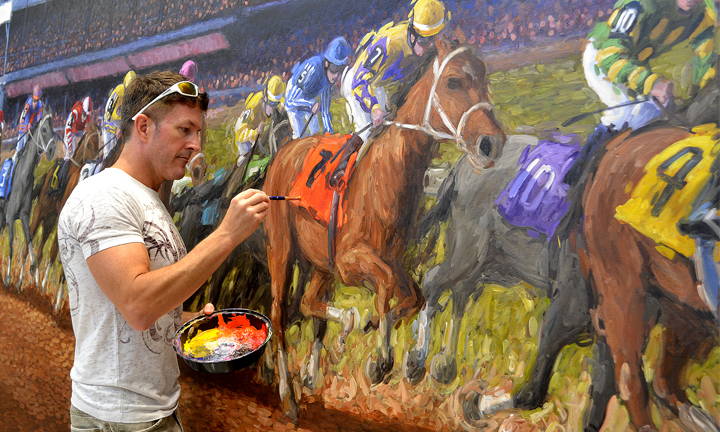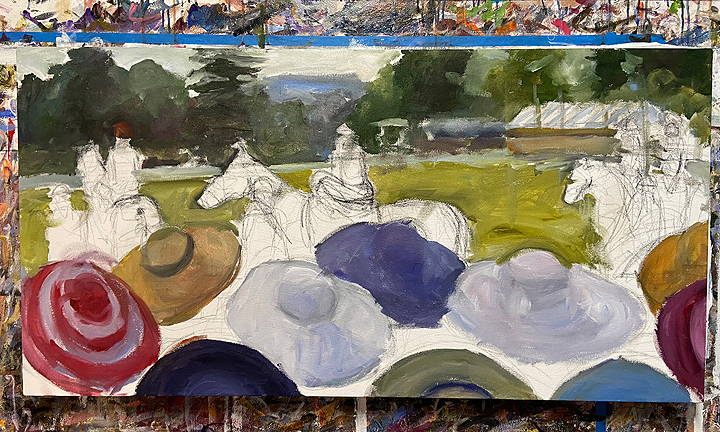 How to Start & What To Expect
Contact Tom when you are ready to move forward with a commission. He will answer any questions regarding the process including: size, style, time and cost.
The process begins by viewing the space that the art will be hung. You can send a photograph of the wall or make an appointment for Tom to visit your home. If you know exactly what you want, great. If not, he will discuss size, shape, whether you want the painting technique and hues to fit seamlessly with the decor, including fabrics and furniture, or to create an exuberant, colorful focal point in the room. He will provide an estimate for you and begin the painting. Tom will send progress photographs of the work. He welcomes suggestions and changes at any time.
If you plan to frame your artwork, Tom has hundreds of frames to choose from. He carries the prestigious, Larson-Juhl Collection. If you purchase a frame for your commissioned painting from Tom, you will receive a discount on the cost of the frame. Choosing a frame is fun and enjoyable. You and Tom will look at several options and discuss how the frame complements the painting and your decor.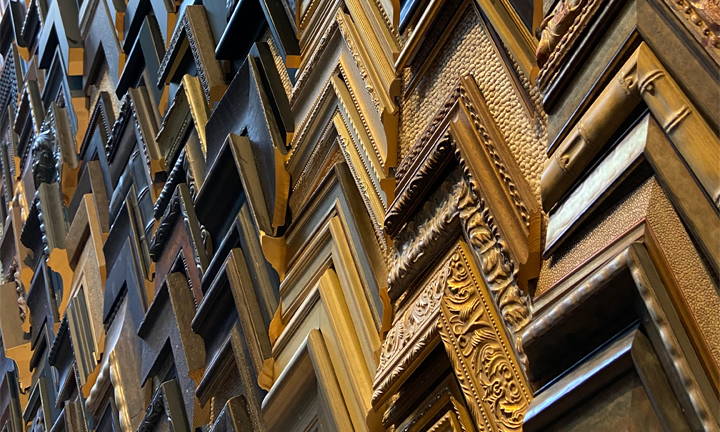 Silverwood Home and Gallery